For the second day in a row
The first annual international conference entitled "In light of local, regional and international changes... Palestine where to?" activities continue in its second consecutive day. It is organized by the Policy and Conflict Resolution Studies Center at the Arab American University Ramallah campus. The activities included three sessions in which 12 local and international political and academic speakers participated.
The University Speech
The President of the Arab American University Prof. Dr. Ali Zidan Abu Zuhri, started the event by thanking all those who contributed in this conference success, on top of them the Head of the University Directors Board Dr. Yousef Asfour for his encouragement and support, the Chairman of the Conference Preparatory Committee and its members for their efforts, and the speakers for their contribution to enriching the debate.
"The evolving of global awareness in the 21st century led to the bias to human rights principle, the rule of international law, rejecting submissiveness to power and imposition of domination and colonialism. We hope the world; public opinion, governments, parliaments, and organizations will fulfill their responsibilities and respond to their political, moral and humanitarian commitments to the Palestinian cause. Which become impossible to resolve over time because of the international community failed in completing those responsibilities, especially accountability of the occupation authority for international law violations and end the occupation, which lasted way too long," he said.
He added "Israel is trying to control Jerusalem city by changing its features, Judaizing it, enforcing racist laws and promoting it as the Jewish people's united capital, in parallel with its attempts to abolish the Palestinian people, forcibly evict them and create a nation of Palestinian refugees everywhere, starting with the 1948 Nakba and till today." Stressing, since the first Nakba of the Palestinian people international resolutions was issued by the UN resolution one after the other in favor of the Palestinian cause, but they remained locked away and the universal human conscience who watched over these years' historical injustice on our people witnessing the excessive force and imposition of the international law system and our people rights.
Dr. Abu Zuhri pointed; the US administration is sticking to the program of the extreme right in Israel, which calls for destructing the two-state solution and imposition settlements. As Palestinians, we consider the recognition of Jerusalem as Israel's capital null and void because it violates international legitimacy and international law. He continued "We realize this is only the beginning of a new American phase to impose solutions and dictates on Palestinians and Arabs. The United States believes that anyone seeks peace must accept what they suggest and whoever opposes it will be treated a terrorism and extremism forces that must be fought."
He pointed, the Palestinian people know how to fail these projects, which he has experienced with skill and ability over the past decades. Today, they continue their legal fight against the occupation in every way, proceeding their legendary steadfastness on his land and his peaceful public movement to get his freedom and guaranteed rights by international covenants and laws.
"After reviewing the recent events, it is clear there are many local, regional and international changes going in the region, which will inevitably lead key political changes on the Palestinian issue. Therefore, the Arab American University and Policy and Conflict Resolution Studies Center held this important conference," he concluded.
First session
Under the title "International Law and UN Diplomacy" and moderated by the Arab American University VP for International Affairs Dr. Dalal Erekat, where the Permanent Observer of Palestine to the United Nations Dr. Riyad Mansour presented his paper "Palestinian diplomacy in the International Arena." He said, "the Israeli and American Administration extremism is reflected through aggressive policies towards the State of Palestine, its people, and the region who is in a state of turmoil."
Mansour pointed "Joining the International Criminal Court gave us the legal capability to prosecute those convicted of committing crimes against the Palestinian people, especially war crimes; continuation of settlement." Noting that "Palestine can now pursue these bodies through the Criminal Court legal system. So we have defined a strategy through the work of the committee, which the Human Rights Council will soon form in order to confront the attack on our national project, our Palestinian people, and leadership, represented by the PLO, and investigate Israel committed crimes against peaceful civilian demonstrators in Gaza Strip since 30 March 2018."
"This committee should investigate the killing and wounding of dozens of Palestinian civilians, mostly children, and that efforts are being made to form a committee to report its work," Mansour said. Pointing, "This effort is not easy with the US and Israel powerful counter campaign."
Mansour talked about the Security Council and the UN General Assembly work, saying "We have opposed the current US administration unilateral and provocative actions, which defied the law and international resolutions relating to Jerusalem city." Adding, "We managed to unify 14 of the Security Council members as a majority to defend the Security Council and international law resolutions and confront those policies especially Trump's declaring Jerusalem as Israel's capital and transferring the US embassy to it."
He said, "After this, we went to the General Assembly and gained 128 votes in our favor while 9 where against us. After the massacre in Gaza, we headed back to the Security Council asking them to fulfill their responsibilities and make the call to protect Palestinian civilians living under Israeli occupation."
"International humanitarian law, specifically the Fourth Geneva Convention, defines the occupying authority responsibility and the rights of citizens living under occupation regarding protection, as it stated that the occupying authority is responsible for protecting civilians living under it in all circumstances. Moreover, when it starts killing and committing massacres against those whom they supposed to be protecting, then they are evading their responsibilities; therefore the responsibility is transferred to the international community to provide such protection," he added.
He added, "Under this legal understanding, we headed to the Security Council to seek protection for our people to got 10 votes in favor of the draft resolution we submitted, but it failed because of the United States' veto. So we submitted it to the UN General Assembly."
So the PLO legal adviser to the project to support the Palestinian negotiations Tamara Sayad presented her paper "Reducing Israeli practices against the Palestinians" in which she spoke about the differences between the International Court of Justice and the International Criminal Court. The first investigates crimes committed by individuals, while the latter specializes in States' responsibilities on specific issues.
She indicated the other differences between the ICC and the International Court of Justice were that Israel and the US could not reject the International Court of Justice legitimacy unlike their challenging to the legitimacy of the International Criminal Court by not signing the Rome Treaty, also, the possibility of the US rejecting the International Court of Justice legitimacy would put it in an embarrassing situation.
Regarding the international protection issue, Sayad explained that this issue has five dimensions; deployment of international protection forces, deployment of a monitoring force, direct government interference, economic and political sanctions, and surveillance through international organizations.
The Assistant of the Minister of Foreign and Multilateral Relations Ammar Hijazi in his paper "Palestinian Question in the UN" addressed the importance of the treaties and agreements signed by the State of Palestine, reviewed the Palestinian diplomacy efforts and the obstacles it faced in reaching to this stage.
Hijazi explained that these treaties are relevant because they include binding orders that require the countries of the world to implement them and hold accountable those who violate these laws. Stressing, Palestine has become a force in law-making after joining these treaties.
Chairman of the International Relations Committee in the joint list the member of Keenest Dr. Yousef Jabareen presented a paper entitled "Internationalization the Palestinian Question: Prospects and Challenges", in which he talked about the tension between the standards of international law and international system and the political forces balance in reality. "There are many of the international law decisions spoke about our people rights, such as recognition the Palestinian refugees' right to return to their homes, but in fact, we see denial for such decisions," he said.
He referred to the international laws that announce Jerusalem as international area, which determines its position in final solution negotiations, "But in reality, Israel and America have surpassed them by annexing Jerusalem and declaring it Israel's capital." Stressing the need to expose this racism and support Palestinian diplomacy by supporting its movements on the ground and bring the Palestinian issue back to the fore.
The second session
It was entitled "Social Media and Conflict Resolution" and moderated by Dr. Iyad Yaqoub from the Arab American University, where the public diplomacy professor at the University of Kyoto, Japan, Dr. Nancy Snow talked about "Social Media: Facebook Diplomacy, Twitter: A New Transformation," she mentioned that she's from the US and lives in the Japanese capital Tokyo and she did not hear about the Palestinian issue until she visited Palestine and mingled with its people. Pointing, the reason behind this is that Palestinian media does not use social media which become the new and stronger media against the traditional one whom not interested in the full story. Also, she gave tips for social media and new media users on the need to use them to address the world, deliver their message and attract the audience.
Media lecturer at Birzeit University and Director of the Researches and Media Policies Unit at the Media Development Center Mr. Saleh Masharqa presented his paper "Digital Diplomacy and its Place in Palestinians Foreign Affairs." In which he emphasized the importance of the digital diplomacy in conveying the Palestinian cause to the world, enhancing foreign relations, and clarifying the situation to face the obstacles. He pointed, the Media Development Center has researched on this subject, to show that new media has revolutionized and made everyone move from traditional diplomacy to digital. Mentioning digital diplomacy experiences such as France who made a positive impact addressing the world in eight languages, while Israeli Foreign Ministry uses five, referring to models of Israeli propaganda that uses lies in digital diplomacy, he also made remarks about the Palestinian Foreign Ministry digital diplomacy who only uses two languages, most of its texts are news pieces, not articles, and their English page does not contain all the information the Arabic one has.
The representative of the International Solidarity Movement with the Palestinian people Lili Yousef presented a paper entitled "Social Media" in which she referred to the mechanism of conveying the movement message through the social media. She called the Palestinians to tell their story through these modern means to reach more significant numbers in the world and not to wait for the traditional media to convey their message.
As for the Dean of the Media Faculty at Al-Quds University Dr. Nadir Salha, he presented a paper titled "Digital Democracy: The Art of Image Industry," pointing to the way it handles information based on the image, indicating that processing visual information is faster than processing information through text.
He stressed the importance of multimedia and its impact on emotions and ideas through the present method. He pointed to the importance of employing images in digital diplomacy. Also, referred to some journalistic photographs models that remained in the memory of those who witnessed them, such as the arrest of a child from Hebron by a large group of the occupation army, this one made a big fuss in the world. Explaining, four factors can ensure delivering the message successfully through the image; simplicity, correctness, effectiveness associated with speed, visual attraction, and made some observations about the Palestinian Ministry of Foreign Affairs website to deliver its messages.
The third session
It was entitled "Negotiations and Available Alternatives" moderated by Dr. Nidal Jayousi of the Arab American University, in which the Secretary of PLO Executive Committee Dr. Saeb Erekat reviewed the "Negotiations Versus" saying: "We offered the US administration all opportunities for to make peace, yet it chose to stand with the occupation and be biased to their point of view," adding there is currently no Israeli partner for peace and Netanyahu does not believe in a two-state solution.
"A country that ignores facts won't make the right. The Israeli government is making its effort to keep Gaza separated from the West Bank. Palestinian-Israeli negotiations stopped in 2014 when we signed a reconciliation agreement; they want to kill the Palestinian national project by keeping the division under every by all means," he continued.
We, Palestinians, have no partners in the US. We met the Trump administration and offered them every opportunity to maintain the two-state solution to achieve an agreement under international law to establish a Palestinian state with East Jerusalem as its capital alongside Israel, yet they refused, he said.
Erekat explained that the US administration had used everything in its arsenal by cutting off aids from our people, reducing UNRWA aids, closing the PLO office in Washington, and now what Mr. Kushner is doing is the deal of the century's second step. They believe Jerusalem is not negotiable and it's time to end the Palestinian cause, telling the host countries they will pay them what they paid UNRWA to end the refugee issue believing they can do it and change the regime in the West Bank, but they will fail.
He added, what's happening is pushing our people into chaos, thinking they can dictate a solution, we, the Palestinian leadership, tell them that even though we don't have an army and despite the problems of division and facing a violent occupation, we will not accept the deal of the century. Pointing, the EU has to commit to giving the Palestinian people the recognition of their Palestinian state, because who believes in a two-state solution must recognize the two.
The George Mason University researcher Dr. Carol Daniel presented a research paper entitled "Palestinians' Daily Resistance", in which she said the Palestinians are engaged in daily smart, non-violent resistance against the occupation. The daily resistance means standing in lines of the occupation barriers, planting trees in targeted lands, purchase education and reaching their houses despite the occupation efforts to control the land. As well as not selling land and houses to settlers, protect local water sources in the villages for farmers to replant olive trees, and face the occupation as Ahd Al-Tamimi did.
She explained that these simple forms of resistance called daily activities and tactics used by people under occupation to undermine the repression they are subjected to. People are practicing this invisible policy to change their lives and it does not replace the organized movement of resisting the occupation; instead it's circumstantial and an introduction of what will come after.
Sinn Fein's spokesman for international affairs, Pat Sheehan, presented a paper on "Innovative Alternatives of the Negotiations", in which he discussed his own experience in the Sinn Fein party and the Irish issue. Pointing, the Irish people are unique in Europe, regarding experiencing exploitation and discrimination during the British occupation; therefore, he feels the Palestinians suffering. He added attending this conference came to acquaint you with the Irish experience, especially the Sinn Fein party in creating a successful peace process in Ireland. He stressed, developing the strategy without leaving the primary objectives are essential reasons for ending any war and that negotiations are irreplaceable to reach a final solution.
---
Ammar HIjazi Speach
Importance of Multilateral International Treaties in Advancing Palestinian Rights
 
A quick overview on Palestine and the international rules based system:
International law is a constantly developing regime of laws and principles that countries have established and agreed on, mainly in the past 200 years. They reflect the development of the international community's maturity and sophistication in international relations as well as their heightened commitment to the dignity and rights of individuals and societies. 
This maturity reached new depths following the horrors of WWII, the establishment of the criminal tribunals, followed by the establishment of the UN, and the adoption of the Charter and the UDHR, as well as the adoption of the Geneva Conventions. That period was marked by a renewed commitment to the values and principles of human rights, the dignity of man, and the need to ensure that all states accept and endorse these values as universal. This  - rights based - approach continued to develop and materialize into new Conventions, treaties, and other forms of international law, arriving at the birth of the international criminal court decades later. 
States are now bound by certain fundamental principles that are deeply rooted in the international order and certain rights within customary international law became compelling law (those are better known as jus cogens or preemptory norms) from which no derogation is ever permitted, and are considered hierarchically superior compared to other ordinary rules of international law.  They include norms like the prohibition of torture, of the use of force and racial discrimination etc. While other norms became obligations that are owed toward all (erga omnes), including the right to self-determination and sovereignty over one's natural resources.
Ironically, while this noble development of principles and laws was taking place, Palestine was casted out of this international rules based system, which encompassed the years of British occupation of Palestine and more after Al Nakba. 
For decades, Palestine's attempts to become part of this system were repeatedly thwarted under different justifications. But our persistent and precedent-setting efforts at multilateral foras continued. Palestine's incremental and determined approached, carved a place for Palestine in the international order, including the recognition of our inalienable rights, including our people's  right to self determination and return, following the visit to the UN by Late president Yasser Arafat in 1974. More than three decades later, this cumulative approach culminated in our membership in UNESCO followed by the promotion of the status of Palestine to an observer state at the UN in 2012.
Today the State of Palestine is party to 88 international treaties: including 13 human rights treaties; 9 international humanitarian law treaties, including Geneva Conventions and its additional protocols; 15 international criminal law; 9 environmental law; 11 UNESCO related treaties and 3 law of the sea treaties;. Palestine also declared its commitment to abide by the ICJ decisions and opinions, and joined the ICC, Interpol and a host of other important international organizations.
Why is this important?
Most of the treaties that the State of Palestine acceded to are universally recognized, contain erga omnes and jus cogens norms and have a set of monitoring and enforcement mechanisms. 
For Palestine, joining these treaties intended to protect rights of the Palestinian people, ensure that violations of these rights do not go unnoticed and to invoke third party responsibilities as well as hold perpetrators accountable leading to ridding our people of this brutal colonial occupation. 
At a deeper level, the target was and remains to place Palestine in the rights based international system arena - it was denied for so long. The aim was to rectify a compounded historic injustice whereby the International community insisted on dealing with the question of Palestine as a humanitarian crisis devoid of political, legal and natural context.   We wanted to ensure among other things that organizations and mechanism exercise their duties in relation to the Question of Palestine (QoP) at all levels (political, legal, natural and human rights), not as an after thought but rather as an integral component of their obligation towards international law. 
This would also rectify the direct and indirect harm caused by the coining of the term Israeli-Palestinian conflict (following the Madrid conference) (the parties) and the subsequent harmful emphasis on the agreements signed with Israel as the sole or main foundation for a solution. This approach effectively undermined the standing of the Palestinian people's legal and human rights. This created a facade of balance between the aggressor and the aggressed upon, the occupier and occupied. It also distorted the context of the Question from one of foreign colonial occupation that aims to expand illegally at the expense of the legal and political rights of the indigenous people to a simple conflict over territory between "two parties". 
This situation lead to states abandoning their obligations under international law or holding Israel to the same standards other states are held to. As impunity grew and entrenched further, so did widespread and systematic violations of Palestinian human rights, thus undermining efforts to achieve the needed political solution. 
It was essential for Palestine to confront these concepts and make the needed shift towards more respect to Palestinian rights in the strict sense of legal obligations beside the declared political positions by states and international institutions. The first major breakthrough was achieved following the ICJ advisory opinion in 2004, which elevated Palestinian rights to a new level, in particular by recognizing the applicability of human rights norms in Palestine. 
Several important steps were taken in the build up to the important advisory opinion. A special emergency session of the GA was commenced and High Contracting Parties Conference of GC was held in 2001… Here I cannot stress enough the importance of the UNGA in this battle… The General Assembly continues to articulate principles and values of respecting legal rights of the Palestinian people by adopting resolutions related to the QoP. Although significant and widely supported and achieved several gains, these resolutions, are not considered binding (in strict legal and political terms - binding international law) by several states.  These states resist attempts to accept to regard themselves bound by them either because they did not consent initially or they merely considered them as recommendations, not laws, and thus not binding. Nonetheless, UNGA resolutions on the QoP formed the political and legal basis for the QoP and formed the basis of successful efforts that followed to bring about the needed or required change in the paradigm of legal duties on States to respect for Palestinian human rights, including our ability to accede to international treaties.
How does international treaties and advance Palestinian rights?
As states remain the most potent actors in contemporary global governance, multilateral treaties allow us to gain influence in the international rule based arena. Multilateralism enhances a comprehensive political dialogue and creates mutually recognizable frameworks among States that allow for actors to engage globally in a equally recognizable manner. Multilateral treaties are characterized by mutually reinforcing form of legal rights that creates reciprocity and obligations among State actors.
Palestine accession to international treaties allowed for the progression of the State of Palestine's legal personality at the global level, ensuring it is a State actor at equal footing with all other nations. Palestinian participation in multilateral treaties has led to the creation of a universally recognizable pattern of action and discourse; it allowed Palestine to get involved in the process of international law governance, to take part in developing, shaping and applying international legal norms and has sometimes influenced international discussion (As we recently have witnessed following the activation of ICC jurisdiction over the crime of aggression). Even those states that do not recognize the State of Palestine bilaterally find themselves obliged to deal with us as a state in international fora, including in human rights treaties conferences, NPT review conferences and  United Nations Framework Convention on Climate Change (UNFCCC), to name a few.
Palestinian accession will also contribute to the enhancement of the rule of law in Palestine and ensure the respect of human rights and fundamental freedoms as affirmed under the Declaration of independence. It underpins our commitment to espouse international values relative to human rights as a member of the international community. Furthermore it provides both opportunity and obligation for our law and justice systems to be formally amended in order to ensure that human rights are respected. We are still at baby steps in this regard, but the political determination is firm in this respect and currently, as we speak, a national workshop of harmonizing laws to be compatible with our international obligations is taking place. A vibrant dialogue between civil society actors and the government, which we hope will lead to furthering this process is also very important to the advancement of social norms and laws that internalize the values and principles of these treaties and conventions, including transparency, accountability, freedom of speech and much more. …. 
Most important is that joining international treaties is a step forward towards realizing our full rights that have been brushed aside for, so long. In the current ordeal that Palestine finds itself in, adherence to multilateral treaties will avail the Palestinian struggle of additional legal tools to put an end to Israeli violations and its illegal colonial occupation. It will provide us with a new path to improve the protection and respect for the rights of the Palestinian people and enhance our legal sovereignty and capacity which are essential to advance independence (Human rights treaty bodies and special procedures). 
The Israeli colonial policies aim to erase our identity and presence as Palestinians, thus multilateral efforts push back against unlawful policies and guarantees our rights in the international system and advance our status by including our rights within the lexicon of international human rights and other perspectives (CERD complaint). It will provide Palestine with tools to hold perpetrators of crimes against our people accountable and will force the hands of third state parties to uphold their responsibilities in this regard (ICC referral 2018 and declaration 2015). Furthermore it will provide us with tools to assert sovereignty and protection to our natural resources (Law of the Sea and Climate change treaties). 
Finally, it will avail our people with means to recourse to justice and legal remedy system in the absence of any other valid path. Here allow me to say few words about the sham mistakenly called Israel legal system. This system merely provides a semblance of justice. The Israeli court system, notably the Israeli military court system, has systematically demonstrated itself as an instrument to sustain colonial occupation, not to deliver justice. Israeli legal system facilitates the entrenchment of Israel's colonial policies and transforming the occupation into a permanent regime of legalized control. The Israeli legal system has proven time and time its inherent bias to adjudicate fairly over matters involving Palestinian rights, as protected persons under international law. This was recently demonstrated on the Khan Al-Ahmar case, of which it showed how Israeli legal system facilitates ethno national superiority of Jewish settlers. The fate of the Khan Al-Ahmar community was decided in a "foreign" court by a system that deprives them of their political and human rights. Thus, multilateral efforts are our only recourse and hope in confronting the Israeli colonial regime. It is an added tool to challenge the discriminatory and unjust system of the so-called Israeli legal system.
The Way forward (the main theme of the Conference)
Harmonization and National Laws and ensuring that Palestinian legal system is compatible with our international legal obligations;
Actively engaging in the advancement of the rule based international system, including through participation in legal dialogue at the international level;
Utilizing the tools and mechanisms available under these treaties to combat Israeli illegal colonial regime;
Adopting rules based policies in international relations including in the context of any future peace efforts;
Placing the Israeli presence in the OPT in the proper legal regime, that of colonial regime, especially that it fails to adheres to any of the test related to foreign occupation as delineated by IHL. (Michael Lynk the SR)
In conclusion:
John Dugard, the previous SR on situation of human rights in the OPT said in his final report that; "The Occupied Palestinian Territory is of special importance to the future of human rights in the world. Human rights in Palestine have been on the agenda of the United Nations for 60 years; and more particularly for the past 40 years since the occupation of East Jerusalem, the West Bank and the Gaza Strip in 1967. For years the occupation of Palestine and apartheid in South Africa vied for attention from the international community. In 1994, apartheid came to an end and Palestine became the only developing country in the world under the subjugation of a Western-affiliated regime. Herein lies its significance to the future of human rights. There are other regimes, particularly in the developing world, that suppress human rights, but there is no other case of a Western-affiliated regime that denies self-determination and human rights to a developing people and that has done so for so long. This explains why the OPT has become a test for the West, a test by which its commitment to human rights is to be judged."
Palestine remains the most important test to the credibility of the international law and international system especially at a time when these laws and system are more at risk than ever, this is a test that the international community cannot afford to fail. It is also the test we insist the international community will not opt out of. We are not the exception to universal values. And will not accept to be treated as an exception.
On a final and more positive note, Palestine draws great strength from the principled active solidarity with our people from individuals and organizations. We are living extraordinary times, where global solidarity and coordination on the universality of human rights and international law is mobilizing at unprecedented scales and scopes. Palestinian rights are no longer an issue of exclusive interest to Palestinians. Instead, they are part of the global conversation on international law and human rights. As such, they also inform the kind of pressure governments face today in relation to their obligations to respect and ensure respect of international law. These developments are reshaping the dynamics in this regard and Palestine stands to win from that.
---
Nancy Snow Speach
Media, Conflict and the Palestinians
When I was asked last month to give a keynote speech here in Ramallah at this extraordinary university in Ramallah, I thought that I was living a dream. I offered a purpose for my speech: peace, pax, salam, friede, paz, shalom, heiwa. This is my goal in all my speeches ever since I was appointed Pax Mundi ("World Peace") Professor of Public Diplomacy at Kyoto University of Foreign Studies.
We are here to talk about where do we go from here, a reference to Martin Luther King's last book. We are also here to talk about Palestinian peace, a hoped for place to call home, Palestine.
I'm not a Jew. I'm not a Muslim. I'm not an Israeli. I'm not a Palestinian. I don't live here. I appear Waspish, a White Anglo Saxon Protestant, which is accurate, but ancestrally-speaking, my DNA says I'm 98% European heritage with 1.7% West African. What I am is a proud Southerner, a Christian who grew up singing in the children's choir at Bon Air Methodist Church in Richmond, Virginia. Richmond is the former capital of the Confederacy. The Confederate States of America, commonly referred to as the Confederacy, was an unrecognized country in North America that existed from 1861 to 1865. The Confederacy was formed by secessionist slave-holding states, including South Carolina and Virginia, where I grew up, and Georgia, where I was born. The Confederate economy was heavily dependent on agriculture, particularly cotton, and a plantation system that relied upon the labor of African-American slaves. It took us five long years, the deaths of 625,000 soldiers and 50,000 civilians, a presidential assassination, and underground railroads to reunite our country, but our civil union remained fragile. We have a powerful legacy of civil rights protesters, an American Civil Rights Movement in the 50s and 60s and our union remains fragile today, some 153 years later after the last blood spilled in the Civil War. We are still fighting wars over basic humanity, including the perceived lesser versus the greater, the darker versus the lighter, the richer versus the poorer, the Judeo-Christian versus the box marked other.  
Now let me share a bit about my relatively elementary understanding of the psychological condition of the occupied person, characteristic of many a Palestinian residing in and around Israel. For a contras,t I live in Tokyo, Japan as a foreign resident. I'm known as a gaijin or "outside person." Gaikokujin and gaijin are commonly used interchangeably to refer to racially non-Japanese groups, principally Caucasians. I may be Gaijin and know my place as a
non-Japanese, but I am neither an occupying person nor an occupied person in the same context as a Palestinian. When I think of the word occupation, I picture someone looking busy at work. But here, if someone were to ask, "What is your occupation?" it must mean something quite different. You have two occupations--the state of your relationship with Israel as stateless people and your livelihood. I've no doubt that state occupation zaps your energy from life occupations and family service. That's my hunch, but I could be wrong. It is also my hunch, stated earlier, that you long to be free, or at least freer than you are presently. Do you know what I heard yesterday from a taxi driver in Bethlehem? He asked where I was from and I said the United States of America by way of Tokyo, Japan. "Ah America. Everyone around the world wants to live in the United States," he responded. I asked him why. "The US is free life, the life is good. Bethlehem is very nice but life is difficult. The road is closed." It is not just roads that are closed, but also minds. When you are occupied, your life is inconvenienced for the sake of the occupier. The energy of the occupier is focused on securing what has been occupied and expanding it to feel more secure. Freedom is not the most important ideal to the occupier. Security is. But to the occupied, freedom is the most important ideal. It is your striving.
Where do you want to go from here? To be free. To tell your truth. How you find your freedom is for you to engage the world in your truth. That is primary.  Secondarily, it is with the media's dedication to the truth and reporting accurately and fairly the landscape of reality here on the ground. The media system, as it is, cannot grab truth out of you. Do not rely on the mainstream media to share your truth. You must share your own truth with your own media from the interpersonal to the international on a daily basis as you seek your freedom and dignity. It is an exhausting task. You must share your story, your truth, over and over to those who will listen beyond the shrills of stereotyping and name-calling, to those who will read beyond the misleading headlines, to those who will acknowledge you with a human to human gesture. Hello in there, as John Prine says in his song. "So if you're walking down the street sometime / And spot some hollow ancient eyes / Please don't just pass 'em by and stare / As if you didn't care, say, "Hello in there, hello."
Now let me share a bit about what I've witnessed here at ground level. The moral low ground has been defined as a position or point of view which is unethical or less reputable in comparison to others which are under consideration. The moral low ground is steeped in the form of Israeli occupation that dehumanizes, disempowers and inhibits freedom. The moral high ground belongs to the Palestinian people living under occupation. The moral high ground belongs to Gaza protesters who have lost their lives at the hands of Israeli army force snipers. Lethal force is not the moral high ground way to confront protesters, the vast majority of whom are unarmed and pose no danger to the soldiers. Ten days ago, on the thirteenth of June, Human Rights Watch said that Israel's use of lethal force against Palestinian demonstrators in the Gaza Strip may now constitute war crimes. The statement was issued ahead of an emergency UN General Assembly meeting to vote on a resolution condemning Israel's use of force. But you know this already. The UNGA condemns and the U.S. and Israel ignores the world body.
Let me repeat, I'm not from here. I live elsewhere. I do not know at any expert level your reality on the ground. But I am a global public citizen as much as I am a U.S. citizen and Japan resident. I know that the global mainstream media are not getting their narrative right about this holy ground. The irony is not lost on me that the greatest criticism of the Israeli state is in the Israeli state itself. You get more discussion and contentious debate about Israel in Israel than anywhere else or in any media outlet, including the elite media like the so-called newspaper of record The New York Times or the global broadcasting behemoth, BBC. This is a testament to the full potential for Israel to be democratic in free speech, so long as you are not accused of overstepping with your criticism. Omar Shakir, representative of Israel and Palestine Director  of Human Rights Watch has seen his organization's work permit revoked, and is now facing deportation. Why? Because there is too much heat in the free speech kitchen. Israel is losing the moral high ground and is growing increasingly uncomfortable with critics of its human rights record, specifically around the rise of Made in Israel products produced in illegal settlements.
The media may not be getting the full story told, but your story locally, regionally and globally will be told because the moral high ground will prevail. It prevails against great resistance to the status quo. Business-as-usual is profitable and powerful. Resisting BAU is difficult and costly. But victory will prevail over some time through many short-term encounters. In his book, Where Do We Go From Here: Chaos or Community? Martin Luther King Jr. says this about struggle for justice:
A final victory is an accumulation of many short-term encounters. To lightly dismiss a success because it does not usher in a complete order of justice is to fail to comprehend the process of full victory. It underestimates the value of confrontation and dissolves the confidence born of partial victory by which new efforts are powered.
The media are an integral part of a political economic system that is at times corrupt and corrosive. It's the nature of the profit-driven or state-owned beast. In its Freedom of the Press 2017 report, Freedom House in New York said this about what it called a "partly free" media in Israel:
Israel hosts a lively, pluralistic media environment in which press freedom is generally respected. However, due to ongoing conflicts with Palestinian groups and neighboring countries, media outlets are subject to military censorship and gag orders, and journalists often face travel restrictions. Economic pressures have undermined the sustainability of key outlets in recent years, threatening long-term media pluralism. Political interference is also a growing concern.
I find this language to be quite interesting, don't you? It's as if the Palestinians and neighboring countries are visiting their ongoing conflict on Israel and not the other way around. Freedom House should say that the Israeli military and government are censoring media and issuing gag orders, as well as restricting journalists in freedom to travel. The media, whether subject to censorship or not, are only as good as the people who write, produce, edit, omit, and own them. You cannot dream of a final victory without sharing your Palestinian story, but in that effort you may have to create your own media efforts. Or you may have to invite storytellers who have no axe to grind or agenda to advance other than human to human interaction. An example is Anthony Bourdain's Parts Unknown episode on Israel, the West Bank and the Gaza Strip. Bourdain begins the program with a disclaimer: "By the end of this hour, I'll be seen by many as a terrorist sympathizer, a Zionist tool, a self-hating Jew, an apologist for American imperialism, an Orientalist, socialist, a fascist, CIA agent, and worse." In reference to the state of Israel and the Palestinian territories, he said: "It's easily the most contentious piece of real estate in the world, and there's no hope—none—of ever talking about it without pissing somebody, if not everybody, off." When Bourdain, who was born to a Jewish mother and Catholic father, died earlier this month, Juan Cole, writing for Truthdig, referred to him as "The Only Mensch on Gaza."
Bourdain got away with his humane sentiments toward Palestinians and his calling of bullshit on Israeli propaganda presumably because he had a cooking show rather than doing hard news. Or perhaps he stood where he stood because of the sheer force of his personality and his refusal to compromise with principle.
For his humane sentiments toward Palestinians (gasp!), Bourdain received the Voices of Conscience and Courage Media Award in 2014 from the Muslim Public Affairs Council. In his acceptance remarks, he said the following: The world has visited many terrible things on the Palestinian people — none more shameful than robbing them of their basic humanity.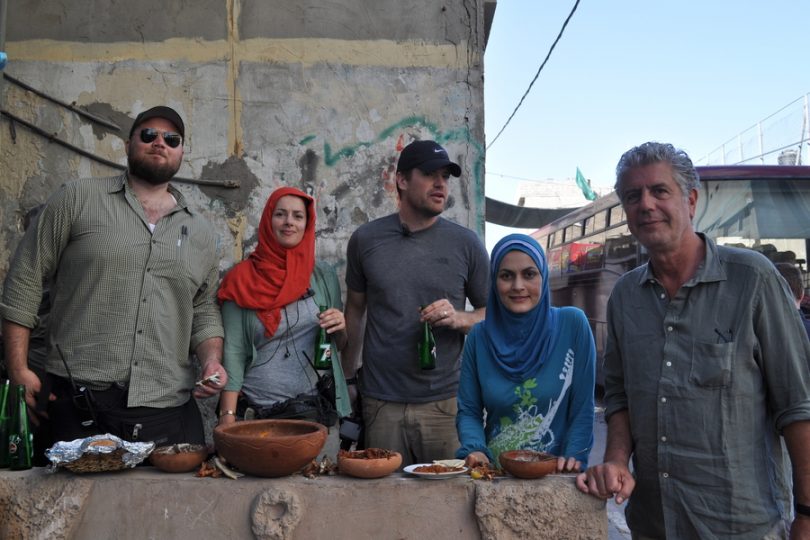 I don't think it was just uncompromising principle that made Bourdain so ideal as a Palestinian advocate. Bourdain is an example of a man who was self-deprecating in his humor and simplicity. He did not put on airs. His show became popular because he dared to meet and greet people as people first. We all love good food, we all love the sound of laughing children, we all love the warmth of the sun on our faces. The Filipino people claimed him as much as the Palestinians. He was the everyman with a kitchen knife.
Media, especially the new media, the social media, are doing a piss poor job at bringing us all together. In many respects they are robbing us of our humanity because they are defaulting on stereotypes. The better media outlets are the ones that connote the real over the false. Too much sentimentality or victimhood is bad, more realness—for good and bad—is better. Alexis Ohanian, the co-founder of the social news website Reddit, explained the environment of social media a few years ago:
What we've seen in social media the last ten years (2006-2016) has been the cocktail party. It has been the most superficial level of connection. Now, it's something we need. I don't say that derisively. We like cocktail parties. As humans we like showing people how cute our pets are, how wonderful our life is. That's a level of connection that doesn't go very deep. What we are seeing on platforms like Reddit, Snapchat, is a hunger for the next wave—a demand for authenticity…something that feels more real, that's not there because of wanting to show a filtered version of yourself, but wanting to show how you really are in that moment.  
Regarding social media, let me leave you with a few tips:
(1) The back button is your number one enemy online. Invite readers in with a compelling narrative that addresses the interests and needs of the reader. That's where credibility lies. If you are using social media to connect with anyone from local to global, you need to do your research and find out what makes the other click, connect, and care. The story isn't worth sharing if it doesn't resonate.  
(2) Do not use social media to rant (rant in private, to a friend). Just shouting about your cause will lead to that back button motion. The online world is full of so much vitriol and hate and we are getting so sick of it that many of us are starting to avoid exposure to the unknown and new. We prefer those cat videos as a form of stress relief. Do not add to the sad sack recipe. Show humanity.
(3) Become a real expert, not a fake expert. Fake experts abound. These are people who are Instagram stars seeking publicity and social influence for no other reason than that they want to be famous and make money. Edelman, the U.S.-based PR and marketing firm, has been conducting a trust barometer survey for the past 18 years. Its most recent findings were that global publics are losing trust in peer-to-peer informants and are seeking out experts to believe in, not just academics, but also technical experts. Become a specialist and speak to your specialty.
(4) Collect best practices. Check Charity Navigator. Avoid so-called poverty porn projects like Kony 2012. I came across a site called "That's Ramallah Baby" http://www.thatsramallahbaby.com/about just because I was Googling Ramallah. It's so real and entertaining. I learned something within minutes. No back button necessary. And finally, share your story and invite others to join you. A great example is Open Bethlehem, a big film about a small town (https://vimeo.com/ondemand/openbethlehem)